If you are just starting your real estate photography business you may already have a camera body and lens because of your prior experience with photography. But not all photographers start out having the right equipment, so let's take a look and see what camera bodies and lenses I use, and why.
The other day Julie B. filled out my Have a Question? form asking for a recommendation for a camera body. I had planned to write some posts about the equipment that I use and Julie's question made me realize I had better share because folks are wondering!
As with all of the other information on this site, I will share what works for me and what I use. Just because I use a certain brand or camera body doesn't mean it's perfect. It gets the job done for me, and that's all I need! Unfortunately because I started out shooting Canon I don't have any knowledge over other dSLR brands like Nikon and Sony, but my goal is to share why I like the equipment that I use and you should be able to find comparable features in other brands.
Camera Body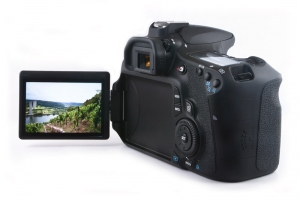 I use two bodies when photographing real estate properties, but I started out with a single body, the
Canon 60D (on Amazon.com for $698.99)
. I used to have an older bridge camera that had a swivel LCD so that's why I gravitated toward the 60D. The swivel LCD isn't used much, but when it's needed, it's very handy. I shoot all of my stills with the 60D, so when I am shooting exteriors and need an elevated shot, I put my 60D on a pole and tilt the LCD down so when the camera is up in the air, I can clearly see the photo that was taken. It works wonders to help with framing instead of bringing the camera down between shots, only to put it back up again and not know exactly where you need to be.
I also like the 60D because it shoots 1080P video. When I first started to introduce video as part of my services I didn't have to upgrade any equipment (aside from a stabilizer/slider). Even if you aren't planning on doing video now, it might be something you want to add to your services later. Real estate videos are exploding and smart/savvy agents are taking advantage of YouTube so there's definitely a market out there that needs professional services.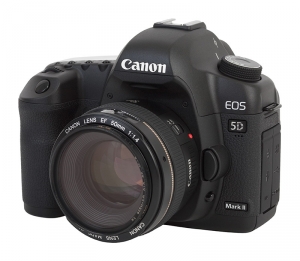 My other camera body that I use in my real estate photography business is the
Canon 5DMKII (on Amazon.com for $2749)
. I bought this body about two years after starting my business. My video product was catching on and more agents were requesting it, and I did a "green" house that was built into the side of a hill. It was really dark, and I wanted a body that could handle low-light interiors better than the 60D.
Another selling point of a second camera body is for backup purposes. I have broken my wide-angle lens a couple of times and I have stayed in business thanks to having a second camera body. It takes a bit of learning to remember how everything operates because the bodies aren't identical in terms of function, but it gets me through the couple of weeks it takes to get my equipment repaired.
I actually shoot all of my stills with the Canon 60D and all of my video tours with the Canon 5DMKII. My video equipment requires different quick release mounts from my tripod, so it's easier for me to task each camera with one function, so I don't have to switch quick release plates in the middle of a shoot, etc.
Wide-Angle Lenses
I stuck with Canon when choosing wide-angle lenses for my camera bodies. With the 60D I use the Canon 10-22mm (on Amazon.com for $649) and on the 5DMKII I use the Canon 17-40mm (on Amazon.com for $839). There are many alternative wide-angle lenses by companies like Sigma and Tokina, so just go with whatever you feel the most comfortable. Just remember that if you have camera bodies like I do where one is a cropped sensor body (60D) and the other is a full-frame (5DMKII), that you buy lenses that will work and fit to your body. (In my case I technically could use just the 17-40mm on both camera bodies. However on the 60D that means my widest shot is going to be ~27mm. Some times I need ~22mm shots so I need the 10-22mm to obtain that range.)
Tripods and Heads
Tripods are something that you'll beat up on, and if they are good quality, they should last a really long time. I went the Manfrotto route and couldn't be happier. Here are the legs and heads that I use, and what purpose they server:
(Note: For my 5DMKII I use a Manfrotto 394 Low Profile Quick Plate System [on Amazon.com for $40.37] because it's low profile and flat, so you can mount it on a large, flat plate. The quick release plate system that comes with the 322RC2 Joystick Head is not flat on the bottom so it has limited mounting applications. As such, my 60D and 5DMKII have different quick release plates on them, which is fine because I use them strictly for their own purpose.)
Extra Must-Haves
You can find out what memory cards I use in my File Management post, but I recommend having extra memory cards and batteries on hand at all times. I've left my memory card at home stuck in my computer and had to pull a backup out of my case. I have also forgotten to charge a low battery and was thankful for the extras that I carry. Have extras of both of these pieces of equipment is especially important when you get busy and have multiple shoots throughout the day.
Coming up in the future we'll dig into equipment that makes our life easier, and maybe even start discussing aerial real estate photography and what it takes to build a "drone", or an Unmanned Aerial Vehicle (UAV).
Want to share? Have at it!