A camera, wide-angle lens, battery, memory card and tripod are pretty much all that's required to take photos of real estate listings using the methods described here on the site. It might be a little challenging or slow, but it will get the job done. If we want to make our lives easier and finish our job quicker, or offer a service that our real estate photographer competitors might not provide, we need to look at some additional equipment.
Promote Control
The Promote Control is a very handy device, especially for Canon users that are limited to 3 bracketed photos per shutter press. The remote connects to your camera and allows you to adjust how many photos should be taken and what exposure steps should be adjusted between each photo. As an example I can set it to take 7 photos total, with each photo one step apart. So I will end up with photos in the following exposure bracket:
-3, -2, -1, 0, 1, 2, 3
As you can probably see, the Promote Control fits perfectly into a real estate photographer's equipment list if they are shooting brackets. No longer do you have to try to adjust knobs and buttons to change brackets in the middle of a photo set.
I purchased a tripod bag/case that has velcro that goes around the tripod leg so the remote sits on my tripod at all times. Depending on your camera, you may also need an additional shutter cable that's sold separately (I use it on my Canon 60D). To find out what you need and to see what accessories can be purchased, check out the Promote Control System Builder before you place an order.
Pole Pixie for Aerial Photography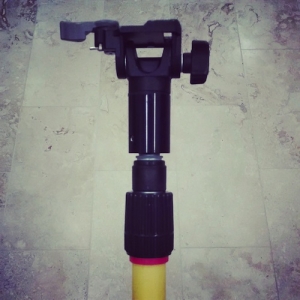 A service you can offer to your real estate agent clients is Pole Aerial Photography, or Elevated Photography. Using a pole to get your camera higher in the air allows you to get more "eye-level" with the home, and avoid objects or eye sores that might exist in the forefront of the property.
So how do you get your camera up high in the sky? You purchase a Pole Pixie and mount it on a painter's pole from your local hardware store! As you can see from the photo, I have a Pole Pixie adapter mounted onto a painter's pole. Additionally I took the extra step to purchase the Tilt Mount (it's part of the Pro Two-Piece Kit in the link above).
With my quick release plate mounted on the top, I can snap my camera to my pole and start taking elevated photos very quickly. Additionally because I have the Tilt Mount, I can actually tilt my camera 90 degrees and take a shot in portrait orientation! This is great for clients who specifically request a vertical shot for a magazine, flyer, etc.
The painter's pole that I use has a max height of 12 feet. You can get poles that extend further, but keep a couple of things in mind:
Will it fit in your vehicle that you use to get to properties?
The higher you go, the more unstable it gets due to the weight of the dSLR.
Aperture Pro Coworker
You have your camera up in the air on your Pole Dixie, but how in the heck do you trigger the shutter? This is where the Aperture Pro Coworker Wireless Remote (on Amazon.com for $27.11) comes in to play. It's small, light and easy to use. You attach the receiver on your hot shoe and connect the short cable to your camera. Then you press the button on the transmitter/remote, and it triggers the shutter!
NOTE: The receiver has an on/off toggle switch so you can keep it off to save battery life when not in use (it lasts forever). The transmitter/remote however, does NOT have an on/off switch, and the battery drains in an instant! I have gotten into the habit of just removing the battery after I use the remote and store it in my camera bag.
Do you have a tool you use that differentiates you from your competition or makes your job easier? Comment below and let me know!
Want to share? Have at it!