There are a lot of decisions that you need to make when starting out that will determine how easy your job is. File management and photo storage is a piece of the puzzle where you will either have it organized and don't have any issues, or you'll make it more difficult than it needs to be and time will be wasted. From choosing the right memory cards to storing and organizing the photos on your computer, every decision makes a difference.

Real Estate Photography Tutorial – File Management – Start to Finish (you are here)
Real Estate Photography Tutorial – Prep and Settings
Real Estate Photography Tutorial – Shot List and Guide
Real Estate Photography Tutorial – Software Setup for Post Processing
Real Estate Photography Tutorial – Editing With Lightroom And Enfuse/HDR

Buy Good Memory Cards
The memory card is one of the tools we use as real estate photographers that is one of the most important parts of our business. Just like our camera equipment, if our memory card fails us, we potentially lose work. It may take trial and error to find the best memory card for you, but I'll share what I found in hopes that it will make your decision easier.
When I first started out I bought some PNY fast "Video" memory cards. They were cheap during a sale so I picked up a few. They worked fine at first for my still photos, until I tried to use them for video. I was hired to record a real estate agent during a radio interview, so I set up two cameras at different angles. The red ON AIR sign flipped on, and I began to record the show. On one camera, everything went smoothly, however on the other one I would hit record, and then it would immediately stop! It took 3-4 times of restarting before it would successfully record! Talk about a heart attack – there I was in a live radio show hired to record a one-time deal and my equipment is failing!
Immediately after returning home from that radio show I purchased new cards that I still use to this day without trouble: SanDisk Extreme SD and SanDisk Extreme CF. (Note: My SD cards are 30MB/s and my CF cards are 60MB/s. It appears 45MB/s is quite popular in the SD lineup as of this writing so I would recommend that speed of card.)
Format In Your Camera
Before you start a day of shooting, format your memory card. Avoid formatting it from within your computer. Instead, put the card in your camera and format it through your camera's menu. Formatting before you start for the day solves a couple of potential problems.
Running Out of Space If you have shoots on your card from the previous day, you may run out of space in the middle of shooting. You'll either have to delete photos one-by-one from your camera to free up space, or you'll need to switch cards mid-shoot.
File Corruption I once had 6 frames from a shoot become corrupt and unreadable when I got back to my computer. I strongly believe this was a result of pulling the memory card out of the computer without ejecting, and not formatting the card beforehand. The same card has worked flawlessly since I started formatting consistently.
Create an Organized Folder Structure
An organized folder structure will allow you to easily access files in the future and find past photo shoots without any delay. I put all of my photo shoots in a main folder, and use the following structure:
YYYYMMDD-StreetAddress-City-State-Zip/ (base directory)
YYYYMMDD-StreetAddress-City-State-Zip/YYYYMMDD-StreetAddress-City-State-Zip (Lightroom catalog)
YYYYMMDD-StreetAddress-City-State-Zip/Originals (camera RAW files)
YYYYMMDD-StreetAddress-City-State-Zip/Full (full-size edited JPGs)
YYYYMMDD-StreetAddress-City-State-Zip/Small (small/compressed edited JPGs)
If I were to schedule a shoot on November 8, 2013 at 123 Main Street in Dallas, Texas, my folder setup would look like: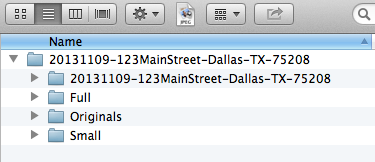 One Lightroom Catalog Per Shoot
When I first started I maintained a single catalog for all of my real estate photography shoots. The catalog quickly grows and Lightroom tended to slow down and not be as responsive. Now I create a new catalog for every shoot and I store it directly in the base directory. I name it the same as what the base directory is named also. Here's an example where you can see the catalog directory expanded.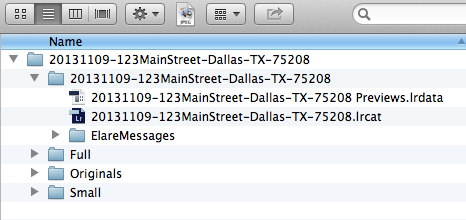 A benefit of creating a new catalog for every shoot is the entire catalog + originals can be removed to save space once the project is edited. If you maintain a single catalog and
remove the photos from your computer, you'll need to then remove them from within the catalog and it's just an extra step.
File Naming
For 99% of my clients, I name the files after the property. I think this is helpful to the agent as at any given time they will have multiple properties and they can quickly know which photos belong to each of their properties. There is only one client that requested a different naming structure, where each photo is named after the space (Entry, Formal Dining, Formal Living…etc). Here is how I name the photos:
001-StreetAddress-City-State-Zip-FULL.jpg
002-StreetAddress-City-State-Zip-FULL.jpg
003-StreetAddress-City-State-Zip-FULL.jpg
004-StreetAddress-City-State-Zip-FULL.jpg
…
I start the photo name with a number because that allows the computer the maintain the order of the photos. I finish the photo name with either FULL or SMALL depending on which version it is. Here is a look at the some of the photos within their respective folders: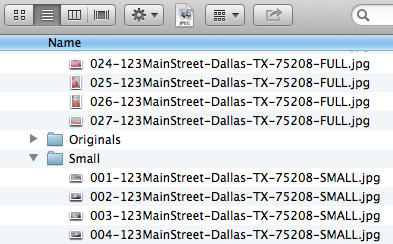 File Packaging/Delivery
I simply zip up each group of files and provide the agent with the zip files for download. This way if they don't need to download the full size images they don't need them.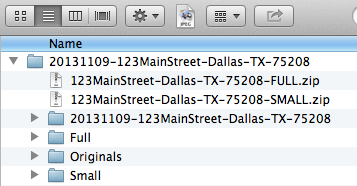 Cleanup
Deletion of files only happens after the photos have been completely edited. This includes the original photos on the memory card. If I need to use the memory card for another shoot before I have a chance to edit the photos that were on that card, I use a new card. You never know when you might accidentally delete photos from your Lightroom catalog and need to grab the originals again off the memory card.
To save space, I also remove the Lightroom catalog directory as well as the Originals directory, which holds all of the RAW image files. The odds of an image needing an adjustment where the RAWs are required, is very slim. It's a risk I'm willing to take. With real estate photography, I find that once the photos are edited, rarely do I ever have to go back to them for any type of editing.
Archiving
Backups of the photo shoots happen weekly. I copy the base directory of each shoot (which includes the resulting FULL/SMALL size JPGs, but no original RAW files) to two locations:
An external HDD plugged into my system (WD My Passport 1TB, $76.90 from Amazon.com)
A local separate server with RAID HDD storage (for redundancy)
Additionally I host the edited zip file packages on my website for the agents to download, so I consider that as a third backup location. Both of my backup locations above are in the same physical space, so it's always a good idea to maintain a backup off-site somewhere. The zip file packages on my website are maintained for ~2 months before they are removed to recover space. If an agent needs to access the photos after 2 months time they can contact me to pull them off my local archive, however it is the responsibility of the agent to maintain their own files once downloaded and they shouldn't rely on me to recover them.
Want to share? Have at it!