Looking to spice up your services offered to your Realtor clients? Want to jump on the video wagon because it's perceived as a higher-value item, thus allowing you to charge more? Ever wanted to start doing real estate walk-through tours but don't have a clue how you can keep your camera steady so buyers don't get sick watching your video? 🙂 This post may be just what you are looking for!
Real Estate Video Tours DJI Ronin-M Review
Most of this blog article is verbatim to what's in the video, except for some additional thoughts at the bottom.
I want to share a short review of a new piece of equipment I've been using for the past month or so for real estate video walk-through tours. It's the DJI Ronin-M (Amazon Affiliate Link – as of the date of publishing the Ronin-M is the same price on Amazon as it is through DJI's store. Purchasing from Amazon doesn't increase your price – it just helps support this site). You may have heard of DJI as they are the maker of the popular Phantom drone. They released the Ronin gimbal stabilizer in I believe July of 2014, and now a year later they have the Ronin-M which is lighter, more compact and easier to transport.
Where I Started
I've been shooting real estate walk-through tours since late 2011, and up until a month ago I was using the Glidecam HD-2000 (Amazon Affiliate Link) to stabilize the tour video. In the beginning I was pretty bad. I couldn't keep it stabilized so footage would rock back and forth. I would try to fix it in post, and it would create weird artifacts and zooming issues. I got better over time with practice but I would always find myself redoing shots because they would start to tilt when I would walk and I didn't like the end result.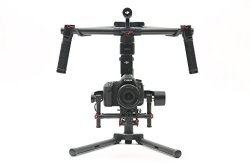 Fast forward to today, and I am now a proud owner of the DJI Ronin-M. Setup was a piece of cake.
Setup
I took it out of the box, put it together, and put my quick release plate on to hold my Canon 5D Mark II. This is a huge benefit, that the quick release fits. This means I can just snap my camera on making quick work of getting set up at homes.
I used the manual to get the camera balanced. The different adjustments are easily modified with thumb screws or thumb levers. You just loosen parts of the stabilizer up and make small adjustments until your camera is balanced before you turn it on.
Hello Awesome Battery
The battery has an LED indicator on it and let me tell you, this thing runs forever. I've shot 13 or 14 homes I think now? And I'm only on the first charge.
Using the DJI Ronin-M
When you get it set up, you can download the DJI App and use it to make trim adjustments to the stabilizer. This comes in super handy when you need to tilt the camera slightly one direction to get it perfectly level.
Using the stabilizer, you get super smooth footage. It's unbelievable really. I still walk softly, something I learned when working with the Glidecam HD-2000, but the Ronin-M does an outstanding job of keeping footage smooth without much effort on your part.
There's a built-in panning mode where the Ronin-M will follow where you are pointing. It makes panning rooms super easy and painless. Simply start panning, and the camera will smoothly follow whichever direction you are pointing.
You can do vertical movements to get different shots, but unfortunately you can't tilt the camera out of the box. There is a remote that comes with it, but I never have anybody with me so that doesn't help. I did just order a wireless thumb controller from DJI that attaches to the Ronin-M frame to hopefully allow me to get tilting shots while in the home. (UPDATE: I received the thumb controller and it's super awesome – absolutely love it for pan/tilts in tight spaces like bathrooms!)
DJI Assistant App Settings
Here is a glance into what I have my settings at in the DJI Assistant App for the Ronin-M. One thing to note is the settings for the Thumb Controller under Maximum Speed, as that controls how quickly the camera is panned/tilted when pressing the thumb controller. It needs to be super slow so it stays smooth. And remember just like everything else I share on the site, my settings may or may not work for you. So make sure you adjust to YOUR needs.
The Minor Negatives
Because of the design of the stabilizer, you can't set it down unless you put it on the stand. It's inconvenient for sure. If you want to review footage or change settings, you have to hold the camera up and try to push buttons in an uncomfortable position. It's heavier than it looks, especially after holding it up for a couple of seconds while trying to watch footage that was shot.
You could mount an iPad or LCD screen onto the Ronin-M frame and use something like the CamRanger to view a live feed, but it's just going to add weight to a device that is already pretty heavy to use. At first it seems light, but after walking through a property your back will probably let you know that you have been working.
I'm sure it's just a minor defect on my unit, but the stand has little rubber pieces that come unglued. It may be the Texas heat, or just faulty glue, but the rubber piece comes off frequently and I have to put it back into place. That's probably my only complaint about the build quality – otherwise things feel really solid.
Conclusion
If you are looking to add video to your services, especially walk-through tours, I couldn't recommend the DJI Ronin-M enough. You'll get super smooth footage without the hassle of trying to balance a stabilizer like the Glidecam HD-2000, resulting in excellent video for your clients.
Let me know if you end up purchasing one and if you have any questions, or share some tips that I haven't covered so my experience can be taken to the next level!
Bonus – The Video Debate
I hear it frequently. Clients will say "I need a video of a home, but it has to be under 60 seconds in length". Or… "I went to Super Awesome Agent Tech Conference and they said when we post videos, they need to be under 60 seconds". True, to a certain extent. Look – we aren't making a viral video here. At least that's not my business intentions by offering walk-through tours. My goal is to accomplish the following:
Provide a video product to make the agent stand out and impress their seller. This will do well for them in the current listing, but also will help them win listings in the future by presenting to future sellers of their marketing intent.
Give buyers new content to look at, instead of the pictures they have already seen. A "video" of stills is not a real estate video! Sure it may be an add-on product you provide for agents and that's great! Just don't call it a video tour when it's anything but!
Give buyers a TOUR, and actual walk-through so they can see the layout of the home. It may take a while to walk through the home! But I've heard it over-and-over – the buyers watch the video.
To us, and any other person who is NOT buying that property, the video is going to be boring. Who wants to sit there for 7 minutes and watch a slow tour of a home? Nobody – EXCEPT the potential buyer! And that's the person I'm most concerned with! I've had listings where out-of-state buyers send one spouse to look at the property and the other spouse watched the video on repeat and that was how they made the decision to purchase the home. Someone who is about to purchase a property WILL watch the video, and they should be your main focus.
Hopefully that gives you some ammo to add this type of video to your services and prepares you for some push back you may receive from agents. If you do it for a purpose with a goal in mind, you'll be able to convince them this is the product they need and not just a video with a couple of slider moves showing the main living areas. (I offer a product like that, so I'm not judging! I just see the importance of walk-through videos and I think their "length" sometimes over-shadows their true benefit!)
Want to share? Have at it!