After you've taken photos of a property you can post-process and edit the photos with a variety of software programs. In this real estate photography tip we'll look at what software I use to blend my bracketed shots together to deliver the final product.
Real Estate Photography Tutorial – File Management – Start to Finish
Real Estate Photography Tutorial – Prep and Settings
Real Estate Photography Tutorial – Shot List and Guide
Real Estate Photography Tutorial – Software Setup for Post Processing (you are here)
Real Estate Photography Tutorial – Editing With Lightroom And Enfuse/HDR
Adobe Photoshop Lightroom
I spend 98% of my time in Adobe Photoshop Lightroom ($104.52 on Amazon.com) when post-processing real estate photos. You could actually get away with only using Lightroom and nothing else, depending on the quality level of the final result you are seeking. Usually the only time I jump outside Lightroom is when I need to replace a sky so if you wanted to leave a white sky in a photo, you could complete everything necessary in Lightroom itself.
Adobe has switched to a monthly subscription model with their photo editing software, called Creative Cloud. One of the benefits of this model is the low entry-fee to start using some of their most powerful software programs. In the past you had to buy each program separately. Lightroom would run you ~$100, and if you wanted to purchase Photoshop you would be in the hole an additional $600-$700. For the real estate photographer just starting their business, that can be a big expense hit to their wallet.
As of this writing, Adobe is offering a Creative Cloud membership to their Photoshop Photography Program for $9.99/month. They claim it's a a limited-time only offer, but if I recall correctly I think they keep extending the deadline. A subscription to this program gets you full access to Lightroom 5 and Photoshop CC, including all future updates. You really can't beat it, having the latest versions of the software and not to mention a full-fledged Photoshop application.
Lightroom Metadata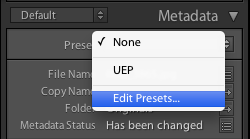 Before we start to edit our first photo shoot, let's take a look at some of the things we can set up in Lightroom to make the editing process easier. Open up Lightroom and create a new catalog if you don't have one created already. Make sure you have selected the Library module in the top, and on the right-hand side find the Metadata section. Click on the Preset drop-down box, and select Edit Presets… We are going to modify some key pieces of metadata and save it as a preset so when we import our photos, we can automatically apply copyright information to each photo.
Of the available sections and pieces of data, here are some that I would recommend filling out: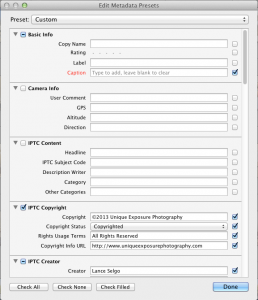 IPTC Copyright
Copyright (©<current year> Your Company Name)
Copyright Status (Copyrighted)
Rights Usage Terms (All Rights Reserved)
Copyright Info URL (Your website URL or a direct link to a copyright statement)
IPTC Creator
Creator
Creator Address
Creator City
Creator State / Province
Creator Postal Code
Creator Phone
Creator E-Mail
Creator Website
You are more than welcome to fill out additional pieces of data, but I am comfortable with filling out the above to make sure my photos are stamped with my information.
Once you have everything filled out, click on the Preset drop-down box at the top that currently says Custom, and select Save Current Settings as New Preset… Give it a name, click Create, then click Done.
Lightroom Auto Lens Corrections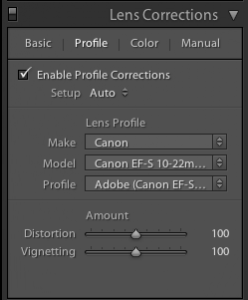 If you don't have any images in your current catalog, import a RAW photo from your camera. Click on the photo, and go into the Develop module by clicking Develop at the top. (If you made prior adjustments to this particular photo, scroll down on the right-hand side and select Reset to remove your adjustments.) In the right-hand side, scroll down to Lens Corrections. Of the four tabs within this section, click on the Profile section. Select the Enable Profile Corrections checkbox, and make sure Setup is set to Auto as displayed in the screenshot.
Lightroom has built-in lens correction profiles for various camera and lens combinations. You should see your lens pop up under the Lens Profile section. Lightroom will automatically correct minor distortions and vignetting caused by your particular lens. It's not a major correction, but it's best to start off on the right foot before we blend our photos together so we'll be applying this correction to all of our photos during the import process.
The only adjustment that we've made to the current photo is the Auto Profile Corrections. We need to save this setting as a preset so we can apply it to our imported photos. Switching to the left-hand side, find the Presets section and click on the plus-sign. Give your preset a new name, hit the Check All button at the bottom so all of the adjustments are saved in this preset, and hit the Create button.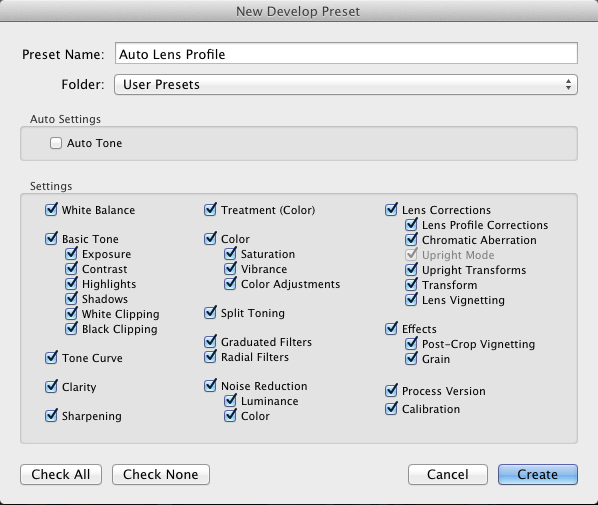 Lightroom Enfuse Plugin (LR/Enfuse)
Back in the Shot Taking phase we discussed bracketed shooting and coming home with 7 bracketed exposures of each shot. We will use an algorithm/program called Enfuse to blend them together. Enfuse is similar to HDR in that multiple exposures are blended together to result in a single image. However with HDR, you create an HDR image and then you have to tonemap that image. Enfuse blends everything together and doesn't require tonemapping, and I find you end up with a more natural result.
To make our job easier, we are going to utilize a plugin for Lightroom called LR/Enfuse that will blend our photos together. Head on over to the Photographer's Toolbox website to Download LR/Enfuse. The plugin is donationware so donate some funds to the author to unlock all capabilities of the plugin.
Unzip the downloaded file to end up with a .lrplugin file. Head to Lightroom and go to File->Plug-in Manager… Click on the Add button in the bottom left and find the Enfuse .lrplugin file you just extracted.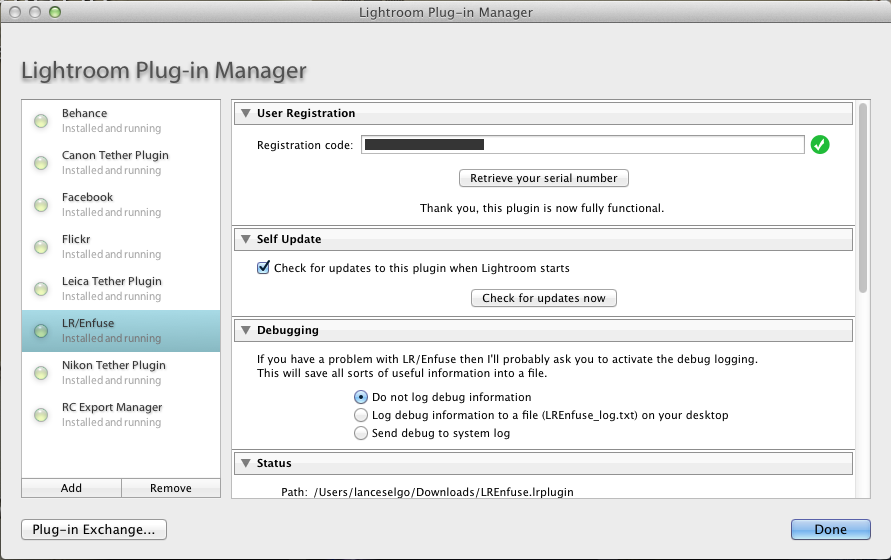 Lightroom Export Settings
We are almost finished with adjusting Lightroom settings! The last step is creating some export presets. Most real estate photographers deliver two sets of photos: Full and Small/Compressed. Realtors can use the full size photos for print material, and they can use the small size photos for uploading to MLS, sharing on social media sites, sending through email and posting to their website. If you haven't noticed, I'm all about setting up systems or ways to make it easy to duplicate a process over multiple photo shoots.
With a photo selected, head up to File->Export… In the left-hand side Preset window, click the Add button and give your preset a name of "Full", followed by hitting the Create button. With the Full preset selected on the left-hand side, make sure Hard Drive is selected in the drop-down box at the top for Export To. Fill out the various sections according to the screenshot attached below: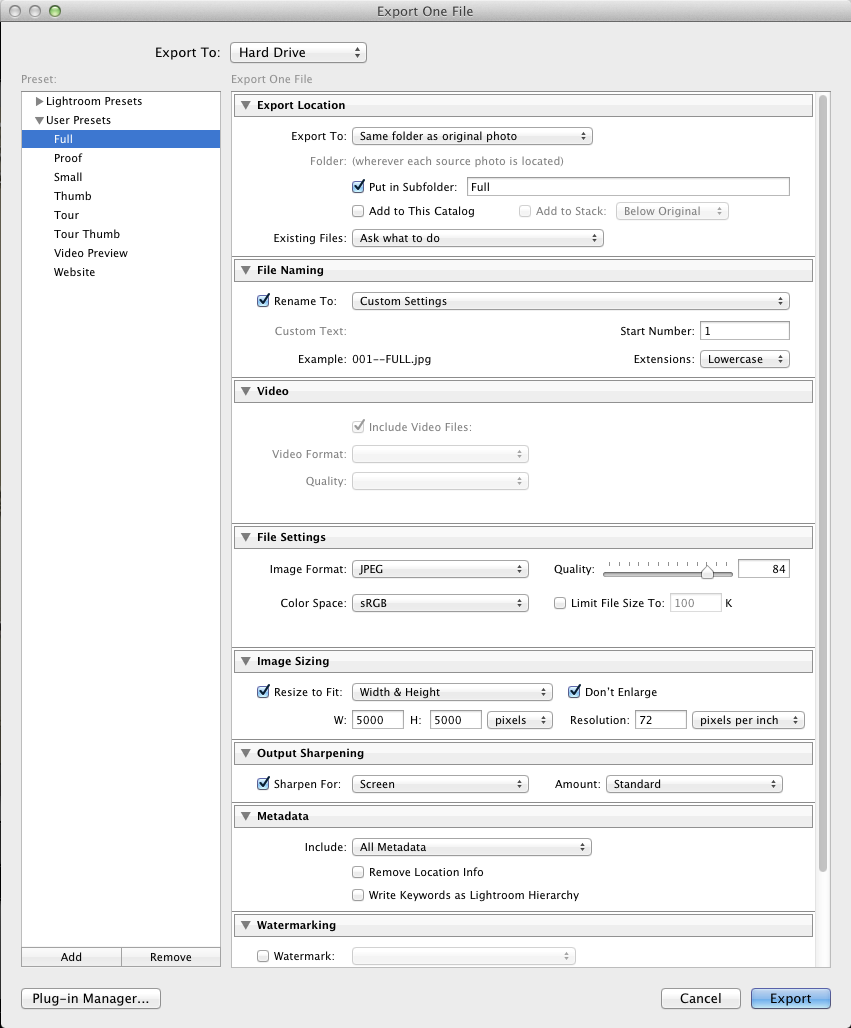 Export Location
Export To: Same folder as original photo
Put in Subfolder: Full
File Naming
Rename to: Custom Settings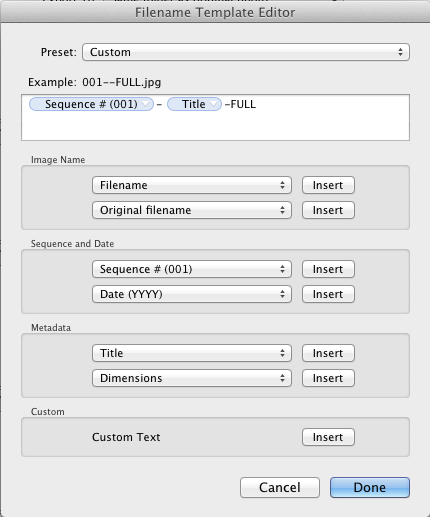 Start Number: 1
(Although the preview name of 001–FULL.jpg doesn't look too good right now, before we go to export we'll adjust the Title of the photo so the name will resemble the property address where we took the photo.)
File Settings
JPEG, Quality 84
Image Sizing
You can set this up as you wish. My current settings constrain the photo so the longest side is not longer than 5000 pixels, and the photo will not be enlarged to meet a size requirement. If you shoot high resolution and want to deliver photos over 5000 pixels, just leave this section unchecked.
Output Sharpening
I set it to sharpen for screen usage, at the standard level.
Before you hit cancel, right click on Full in the preset menu on the left, and click on Update With Current Settings to save your adjustments to the Full preset.
Repeat the above process to create a Small preset. Every field that says "Full", change it to "Small". And don't forget to adjust your Image Sizing. I force my small photos to fit inside an 800 x 600 box but you are free to set it to whatever you think is best for your clients.
Again, don't forget to right click on Small in the preset menu on the left, and click on Update With Current Settings to save your adjustments to the Small preset.
You are officially prepared to edit a real estate photography shoot. If you haven't, go take some exterior/interior photos because the next tutorial is going to dive right in to processing with Lightroom and Photoshop!
Want to share? Have at it!