Have you seen the video with a naked guy walking around a property filmed in black and white? Or the home owner selling her ranch because of a sickness she was diagnosed with so she has to give up her dream property? These are examples of lifestyle real estate videos – videos that show buyers what it's like to live at a property. They tend to draw on emotion more than showcasing the property itself. While you and I may never produce something so extravagant, we do have options on providing this type of service to our client base.
I recently had the opportunity of shooting my first lifestyle real estate video. I thought it would help to explain the process and what went into it. Knowing what to expect is half the hurdle before implementation! Here is the final product I delivered to the client.
2626 Hemingway Drive Arlington Texas 76006
Planning
Planning ahead is by far going to be the best thing you can do when doing a lifestyle video. You'll want to decide who is going to be in charge of creating the storyline. Are you going to put that task on your own plate? Personally I admit I'm not creative enough to come up with a unique storyline for any given property. I relinquished that task to the Realtor. Here's what she came up with:
1.  Scanning shot of the tennis court, maybe zooming in on a stray tennis ball and panning out to the court.  Waterfall, Pool… idea, the home is waiting for the owners.

2.  Shot of the woman in the Tesla arriving at the guard gate from behind, zoom to her tipping her glasses at the guard and speeding in the gate.

3.  Shot from ground level of her getting out of her car, just door opening, high heel shoes getting out.

4.  shot keys dropping in a dish, panning around the corner into the kitchen, man in front of the stove cooking..  water boiling (steam)

5.  She walks up behind, arms around his waist, panning shot of the amazing kitchen, close up of features.  They are blurred in background.

6.  Follow her into the master, kicks off shoes, she disappears into the bathroom while we pan the bedroom, zoom in on the bed and then her shirt lands on the bed.

7.  Back to the man, he turns on the sound system, walks into the wine cellar and chooses wine, we pan the family room waiting for company.  She's lighting candles.  (should we get some sort of maids or caterers working in the kitchen?)

8.  doorbell rings, then fast forward to zoomed shot of wine glass with wine being poured, zoom out to people laughing and mingling around the formal dining room and living room.  2 men in deep discussion in the study,

9. camera moves out the French doors to the pool area, people mingling.

10. Front door shuts, couple walks toward living room, everyone gone, he pulls her in for a spin grabs two glasses and a bottle and pulls her out toward the pool area.  Fire in outside fireplace, they curl up on the outdoor furniture and settle in for some wine.

11. scanning shot of the pool lit up at night and the lights of the house from behind.
If you watched the video above you'll see we didn't follow this plan to a "T". It was extremely helpful having it with us on shoot day though and made the whole thing run smoothly. Regarding the question about maids or caterers.. I told the agent to not go overboard. This is not a feature film, just a real estate video. We are having enough activity with the guests in the property so I didn't think it was necessary to bring in maids/caterers.
Shoot Day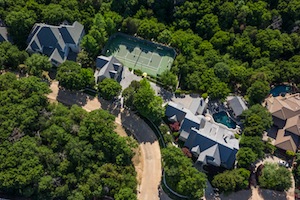 Shoot day was very busy, to say the least. With our plan written out, I knew I needed some peaceful shots to meet the Realtor's requests. Before anybody arrived, I shot the tennis court, some flowers, and the waterfall with bench that's in the back of the property.
The agent handled all of the hiring of the talent, who were all friends/acquaintances. The "sellers" in the video own a local gym and were very easy to work with. The couple arrived at 5PM to the property, and we immediately started with the beginning of our plan, taking the Tesla out for a spin. This type of shooting really seems to get me going. I knew we could always do multiple takes, but getting it right the first time meant the Tesla only had to leave the neighborhood once, and bother the gate attendant once. I took it as a challenge, and won by only requiring one take.
We continued down the list of our plan. My suggestion is to vary your shots. Do wide shots, tight shots, use lenses with an open aperture to blur backgrounds, etc. You want the end result to be a lot of really short clips that you'll blend together to maintain interest. Total time shooting for the lifestyle video ended up at around 3.5 – 4 hours.
Editing
Editing went really smooth because everything was shot in order. I simply had to choose what footage I wanted to use, keeping in mind that we were looking to keep this video somewhat short. The agent did request text to make the beginning somewhat interesting, so I came up with the idea of adding the words with definitions. I've seen it somewhere before so to that pioneer, thank you!
I use Final Cut Pro X in OSX to do all of my video editing and this was no different. Nothing out of the ordinary was done. Just some minor color and exposure adjustments where needed.
Not So Perfect
Is this video perfect? No way! But you can't let minor inconsistencies get you down, especially when it's your first attempt at a new idea. I've heard various comments like Why are they drinking white wine out of red wine glasses? Someone with a wine cellar would never do such a thing. and Don't you think it's weird in the family room that a photo over the fireplace is clearly not the family portrayed in the video? I'm no director, I'm not perfect, and those little details are not going to make or break the sale of the property. Keep in mind these are real estate videos and do your best to get things right, but don't sweat the small details and stress over something that's not important.
Pricing
Everything revolves around price. After all, we are providing a service and product to the client. So how do you price something like this? In my case, I charged an hourly rate because I didn't know how long it was going to take or how well (or not!) things were going to go on-site. I would charge a hefty hourly rate, and then multiple it by either 1.5 or 2 to account for editing time. Or simply use a real hourly rate, and let the client know they will be billed for time on-site as well as editing time. Give them a rough estimate ahead of time so they know what to expect.
In the future I will charge a flat fee for a project like this. It's going to have to cover at least two days worth of my time. This is not a product that I want every one of my clients to have access to, because I don't want to do them every day of the week. So the price needs to be high to immediately put it out of reach for some clients. (This is a business. I'm not saying I like some clients over others, or that I don't want to do this for certain clients. I simply can't afford, in time, to do this all the time.)
I will price this type of real estate video to cover two days because of the time involved on-site, the planning phase of communicating back/forth with the agent and then editing time.
Final Thoughts
Being a smart agent, we did more than just this lifestyle video of this property. We did a full walk-through video so buyers who are truly interested can view the layout and all the spaces of the home. We did still photos for MLS obviously and we took some tighter vignette shots that the agent could add to market collateral. Although a video like this can definitely attract a buyer, I personally feel it's even more of a marketing tool for the Realtor themselves. If this agent shows this video to another high-dollar property seller, the odds of her getting the listing over another agent who simply provides a twilight photo is probably very high.
With that in mind, remember that the value of this video is far more than just your time involved. The agent can use the video to sell their services to potential clients, which means more commissions from new listings.
Have you produced a lifestyle real estate video? If so, share it in the comments below so we can all take a look!
Want to share? Have at it!