Getting your camera gear from one shoot to the next may seem trivial. But we need to think of ways to keep our camera gear safe and protected. It also helps to be efficient and minimize the number of camera bags we carry around, and just make it easier in our day-to-day journeys. Here is how I carry my real estate photography equipment around.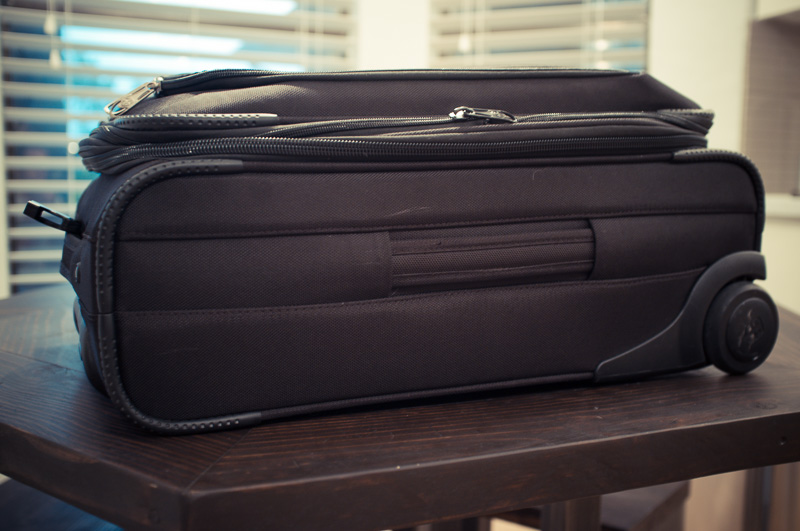 Before we take a look inside, let's look at the bag itself. It's a simple, roller carry-on suitcase that you would use when going on short trips. It has wheels to conveniently roll the bag when needed. It has a compartment on the top that can hold a laptop. And it's nice and roomy, to carry all of the necessary equipment without having to divide up into multiple bags.
I purchased the bag at a local retailer. Ross perhaps? Maybe Kohls? It was cheap. I didn't spend much on it because I knew it was only going to be handled by myself and not banged around by airline staff. It makes the trip from my office to my car most days, and that's about the only action it gets!
Gear Inside the Bag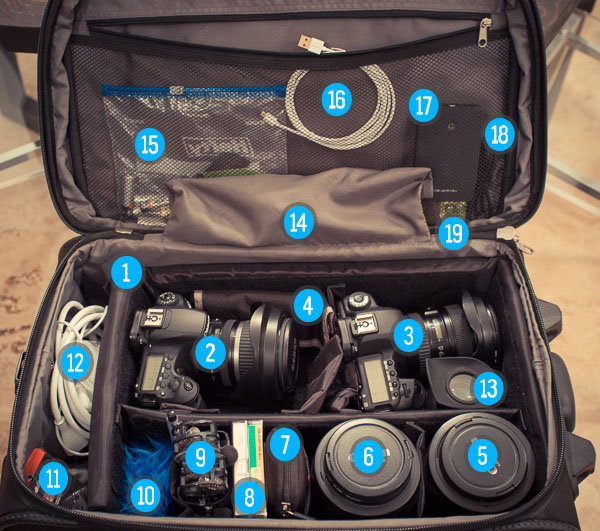 When I open my bag, this is what I see. I'll go through each number below and describe what I bring and if necessary, why.
A padded wall/surround with velcro dividers. Use it to build walls/sections to contain your equipment. Make sure it fits your suitcase. In my example, the surround was a close fit except for being a bit short, where you see equipment #11 and #12 added in to fill up the space.
2. Canon 60D
With Canon 10-22mm Wide-Angle Lens
3. Canon 5D MKII
With Canon 17-40mm Wide-Angle Lens
It's not so much about protecting the batteries as it is containing them and keeping them in a single location. I don't want them flying all over the bag, and this little holder works perfect to hold 4 freshly charged batteries for the day.
5. Canon 17-55mm f/2.8
Used in interiors when I need a shallow depth of field, or used during a video testimonial so I'm not using a wide-angle lens.
6. Canon 24-105mm f/4
Used for some exteriors where I may need the additional zoom, or during a video testimonial so I'm not using a wide-angle lens.
This guy holds all of my memory cards. It keeps all of the cards in a single place, and I always keep extras in it for the times when I leave the office and forget to take a card out of the computer and put it back in the camera!
8. Polarizers
I have a graduated neutral density filter (that I never use) and a circular polarizer for when I need a large aperture for exterior video.
9. Zoom H1 Portable Recorders
I keep two of them handy so when I do video testimonials I can mic up two home owners.
10. RedHead Wind Screen
For the Zoom H1, it's a wind screen you put over the microphone portion. I never use it any more since I strictly use lav mics for all recordings now.
11. Miniature Foam Wind Screen
Extra Audiotechnica miniature foam wind screens for the lav mics on the Zoom H1s.
12. Laptop Charger Cable
Spare laptop charger for my MacBook Pro. You never know when you get stuck out in the field and want to get some work done, but need additional battery life. I keep this charger in my bag at all times.
Handy for exterior video shoots, I hold this up to the LCD to block the sunlight and get a clear view of my exposure. Note I did not tape the included adaptor onto my LCD of my 5D MKII. I simply hold it up to the screen to quickly view how things look.
14. Aperture Pro Coworker Remote
This zipped up compartment holds my Aperture Pro Coworker Remote that I use for pole aerial photography, including the battery.
15. Extras
Extra batteries, microfiber cloth for wiping lenses, etc.
16. Phone Charger Cable
USB cable for my phone to charge it from the laptop, or portable charger.
17. Portable USB Charger
External battery that has USB outputs so I can charge my phone during conferences/meetings, while working away from the office, etc.
18. Extra Aperture Pro Coworker Cable
Extra cable for Aperture Pro Coworker setup, in case the current one fails.
For some shoots where I know I may do some portrait orientation shots, I may use the hot shoe bubble level to get the shot lined up more accurately.
A couple items that aren't visible are my tripods and painter's pole for pole aerial photography. However those items don't fit in the bag so they aren't included in this post!
Am I missing something that you take with you that you can't live without? Share in the comments below!
Want to share? Have at it!