Staging a home for sale should not be taken lightly. In fact, I would argue that a real estate photographer should not have any involvement at all when staging a home for sale. As part of a team effort when marketing a property, every member should focus on their strength. The Realtor should lead the team in organizing the marketing process. The stager should provide a consult at minimum to give the seller the knowledge they need to prepare their home. The photographer should then take photos when the home is photo-ready and shining in its best light.
A photographer is NOT a stager and should not be expected to act as one in the process of photographing the home. For agents who put a photographer in that position on site it is also very unprofessional in the eyes of a client.
Staging a Home For Sale is Common Knowledge for Real Estate Photographers
Part of the reason we get stuck in the middle and are expected to perform staging duties is because we are the ones who take the photos and make the house look beautiful. However I think some Realtors have a misconception of what our duties really are. We have the knowledge to take great angles of a space and showcase the property. That does not mean we have the ability to understand:
the best furniture layout for a given space;
where and what to put as accessories on flat surfaces, book shelves, fireplace mantels, etc;
the potential buyer and how to cater to their needs/wants;
how to talk to home sellers to politely suggest they remove their family photos without offending them;
what updates to do that offer the best ROI (and if we are already there to take photos, it is a little late for this anyway!);
The list could go on-and-on. The point is staging a home for sale should be left to the professional home stager. We real estate photographers should only be responsible for taking the photos.
Handling a Messy Property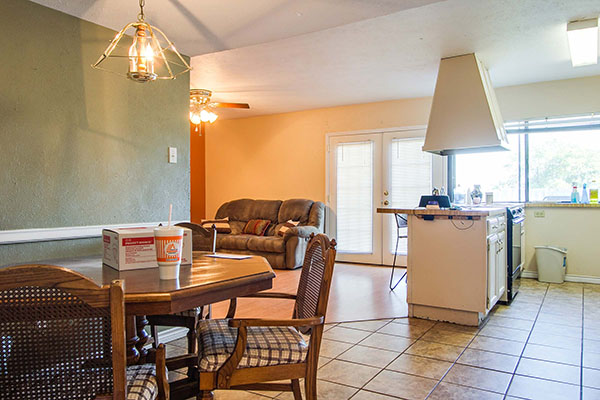 What do you do when you get to a property that clearly isn't ready for photos? You could do what I did in this example and take the photos as-is. Am I proud of this moment? Not in the least bit. If you have any conscience whatsoever, you will feel guilty if you do this! Luckily for me this property sold the weekend the photos went live. At some point you need to be realistic with yourself and your clients to make sure everyone is on the same page.
After delivering the photos of this property, I had a long discussion with the Realtor. She questioned why I didn't just move the Whataburger cup from the table. Sure I could have done that, but if I removed that distraction, the eyes would have been taken elsewhere. We would focus on the trash can in the kitchen, or the cleaning supplies on the window ledge. Instead of asking why I didn't clean up the home, the question I want answered is why didn't the agent ensure the seller was prepared for photos?
In order to provide great service to my clients while keeping costs to a minimum, I only have time to take the photos of a property. I have other shoots that I have to get to that did take the time to prepare their homes for photos and I can't afford to stay and clean up a property when my schedule is busy. In helps enforcing this process when you have proper expectations agreed upon with your clients.
Setting Expectations
Just like we make sure clients understand our cancellation/reschedule policy, we also have to make sure agents understand our duties do not include staging a home for sale. When I bring on a new client, they receive an email of my policies and the below is the portion they receive on staging:
Do You Stage?
Please note that although my full-time job is taking photos of homes, I unfortunately am not a stager/decorator/home cleaner. All properties should be photo-ready when I arrive. I highly recommend a professional home staging consultation prior to photography, as home stagers know how to get a property picture perfect! Due to liability of potentially damaging furniture, flooring, walls, decor, etc, I do not move furniture, treadmills, kitchen appliances, dog crates, etc. I also do not touch bathroom supplies so please be sure your client has removed all personal hygiene items from showers and bathtubs. If I notice a pillow on a bed isn't sitting correctly or a mattress is showing, I will try to make it look as best as possible, but overall the property should be ready to go when I arrive.
Offering Help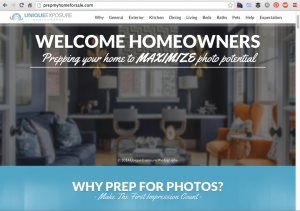 You can still offer to help as much as you can, without using up your time. I reached out to the local
RESA (Real Estate Staging Association)
Chapter in my area and with their help, came up with a room-by-room checklist for sellers. It helps them prepare their home for sale. Do sellers use it? Not to my knowledge – but again it's all about setting expectations and having processes in place to fall back on should trouble arise.
Every time I schedule a shoot with a client, they receive an email with a link to a website on preparing your home for sale. They are encouraged to send the link to their seller so the home will be ready for photos. You can do the same by coming up with a check list of items and adding your own photos into a one-page website template.
Interview With a Home Stager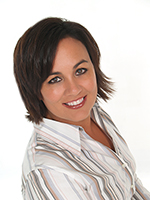 I wanted to share some thoughts directly from a successful professional home stager so I reached out to Karen Otto of Home Star Staging who was grateful to provide some feedback. Stagers are just like us. They are in the same industry, and most of them run small businesses on their own just like we do. Enjoy the question/answer below where we dig into the truth behind staging a home for sale.
What's a quick summary or general overview of what professional home staging is?
Home staging at its core is a marketing tool to help prepare a home and a home seller for the sale of their house. Just like any product on the shelf needs packaging so does a home for sale!
Is staging like what you see on HGTV, where you re-purpose furniture or bring in new furniture to fill entire spaces?
Staging can be all, some or a combination of these things. I suppose it can be like what you see on HGTV but hopefully no drama! Most of the projects I work on are using (or removing) the home seller's existing furnishings with no additional items needed. Some home sellers need to offset with furniture rentals or purchases of items including décor at times (mainly things like new bedding, towels and pillows) or for vacant homes we bring in furniture and décor. Generally for budget purposes though we stage the key rooms of a vacant home only not the entire space like secondary bedrooms.
It seems expensive, is there a budget friendly staging service?
The most cost effective and biggest bang for your buck with a huge ROI is a staging consultation. Most sellers WILL do the work, they just need to know what to do and where to invest (or not) in the home for the biggest return. A staging consultation before listing is becoming like a home inspection at the end of the transaction. People buy on emotion and the aesthetic presentation of the home is a huge part of the marketing plan for selling a home. Getting an objective professional opinion before the first showing will help alleviate buyer objections and potential low ball or no offers.
At what listing price point should Realtors bring in a stager?
At every price point! From a $50K condo to a $5 million dollar home, every home seller deserves the same marketing for their biggest investment.
I think as a team, each person should handle what they are good at. The stager should stage the home, the photographer should take the photos and the Realtor should market/sell the home. What are some things stagers understand that would make it difficult for a photographer to relate to a home seller regarding staging?
One of my goals for every home seller I work with is to help them understand the role of the photographer in the process of the listing. By the time photos are scheduled the hardest work has hopefully been done and the home is ready for its close-up. I've been more blunt about this aspect of the process recently because I feel it is crucial for the photos to be great and reinforcing this to the client is key. I like to use the term "photo styling" and get them ready for the big day. It should be fun and exciting too!
There are at times things I will recommend things for photos only and if they can't live without it for daily use, then if they must bring items back out then at least for the day of the photos the house will be presented at its best. Even the way I ask them to position dining chairs or accent pieces has a purpose for showcasing the home appropriately. A photographer may not know that the bedding shouldn't be wrinkled or off center or that the pillows need to be placed in a certain way. Clearing off counter tops in bathrooms and kitchens should be done by the seller NOT the photographer. A photographer is NOT a stager and should not be expected to act as one in the process of photographing the home. For agents who put a photographer in that position on site it is also very unprofessional in the eyes of a client.
What are some things that bother you in real estate photos that can be avoided if the seller has talked to a good stager?
How many hours do you have? Oh this is a big one. A good stager can help a seller understand the need for things to be photo ready when the photographer comes. Think about a fashion shoot. Before the photographer comes and shoots the subject there are teams of people working for hours behind the scenes to set everything up right from the hair and make up on the model to the sweat beads on a can of soda for a commercial. Everything, including what may seem minor in the scope of things is important for the best shot of the subject. The eyes need to rest in a room an on a photo. My mantra when staging to sell is "sell what stays in the room and it's never the stuff".
Some of my big pet peeves for "un staged" homes in photographs are:
walls of family photos
cluttered countertops in kitchens, baths and other areas of the home, including dressers and nightstands
Too many items above the cabinets in kitchens (I prefer usually nothing in that space especially if the real money in the kitchen is from the cabinets down; granite, appliances, flooring, backsplash etc.)
crooked lamp shades
un made beds
gobs of spaghetti wires from cables and cords of TVs and computers everywhere
TV's or another large item taking center stage in a room with fabulous selling features like a fireplace or great view
Exercise equipment in the master suite
garbage cans in every shot
wonky window treatments
too short of curtains/drapes left on the windows
stuffed animals and toys left strewn about
too much furniture in the room
light bulbs out or mixed wattage and tone of bulbs
patch work of rugs on rugs
rugs not to scale or properly anchoring a space
garish paint colors and wallpaper
I send my clients my prep checklist via the web link (PrepMyHomeForSale.com) but the majority of home sellers don't follow the tips. What makes a staging consult so powerful that sellers listen to what you suggest?
Having someone physically on site who is able to verbally convey face to face what needs to be done and why is much different than reading a list. I typically have 2 full hours of their undivided attention and we comb through each space, room by room and set the tone for what will be required. Expectations are explained and set. From my years of experience as a home stager 99.9% of my clients understand the need and will do the work required for the best presentation and photos of their homes. I want to get them excited about the process! I even believe that the final snapshot of the home they are selling when presented as magazine quality leaves them with a beautiful memory and pride of ownership in the home they are now selling and also helps them transition to their new place with a sense of accomplishment and pride.
We met online, through Twitter actually. What would you tell a real estate photographer who is wondering how they can reach out to stagers to start building a successful business relationship?
Great question because the relationship between a home stager and a real estate photographer is key for both of our businesses to grow. We make each of our jobs easier (hopefully!) and in the end give a better product working as a team with the Realtor and home seller.
Share your work online! Follow and comment on stager's posts, tweets and blogs on social media sites like twitter, Facebook and Active Rain. Reciprocity is important as is sharing your knowledge. If your local market has a RESA Chapter GO to a meeting and network with the group! I can't encourage this enough. Real estate is a first a relationship driven business. We are trusted to work inside people's homes with their biggest investment. Our goals are the same as the rest of the real estate team but trust is the first thing to establish to build the relationship. Help build up others before expecting anything in return.
Search for local Meetup groups online. I believe in getting to know my referral partners before referring so getting out and networking is key. Being the best at what you do is all well and good but if you cannot relate to others or share what makes you great, the business will never come easily. Offer to teach some workshops or be a guest speaker at a real estate event, be a guest blogger. It goes a long way to show your credibility and expertise to others who don't know you.
Photographers and stagers are in the same industry and most of us are running our own small businesses. What's a business tip you can give that you think is really important for all small business owners?
Being "creative" types it's easy to get caught up in the product or service we deliver but forget about standards, policies and procedures. This is not a hobby for either of us but I think many fail to treat their small business as a business. Have standards and procedures from how you handle a phone call from a new prospect to when they can expect delivery of their MLS ready photos will help you and your client's have the best experience. Setting expectations for yourself and your clients is key for consistency in your approach and building a happy, satisfied referral based clientele.
One last business question. As small business owners we constantly try to compete, and unfortunately we find ourselves devaluing our services and competing on price, especially when we first start. How do you handle Realtor clients who request a discount, or call you wanting you to price match another competitor?
As the saying goes, "You get what you pay for".
I am fully confident that the services I provide are worth the investment clients who choose to work with my company make. I have no problem letting a tire kicker, discount shopper or price fisher know that I don't compromise on my brand or standards and that I'm not the stager for every prospect. Just like shopping in a retail setting you can choose to shop at Walmart, Macy's or Neiman's. There is a business model for every business but I chose early on that "low price" wasn't a position I was going to wallow in. I'd rather have a smaller client base who understands and appreciates my value than a huge base of price shoppers who don't value the service as much as the discount. If we don't value ourselves how can we expect anyone else to?
Any final thoughts or other insights you want to make sure real estate photographers are aware of?
In my own industry I say that fellow stagers are not my competitors. I say that for real estate photographers the same could be true. I actually train other stagers to start their own businesses for goodness sake! I've taken a leadership role in my National and Local RESA Boards and believe in helping another out, especially if they are serious about the business. There is a huge market to be served and we are just scratching the surface of the potential. Our services are still considered "boutique" in many markets but our services are changing the landscape of how real estate is bought and sold.
Our products and services actually drive up buyer traffic to see a home. In the current seller's market that we have in DFW our products are creating multiple offer situations with many homes selling OVER asking price!
Our real competitors are the consumers who don't realize they need us, think they don't or are trying to do it themselves (poorly in most cases – because how many hats do you really want to wear Mr. Agent?). Education is still so important and unfortunately lacking. Get out there and share what you know, give information away and prove to your prospects that YOU are worth working with and why!
Want to share? Have at it!