The use of real estate video is rising drastically. Brokerages are hiring in-house videographers to capture agent listings. Buyers are using video to purchase homes without even seeing them in person! As a real estate photographer I think it's important to offer a video product. Let's take a look at some of the real estate video equipment I use as part of my business.
Walk-Through Tours
I offer full-motion HD walk-through tours of properties. I personally feel it adds value to the marketing. A lot of real estate photographers will do video with slow pans/slides. The result is a great HD video, but I feel it doesn't show a different side to the property in comparison to the still photos. With a walk-through tour buyers get a better feel for the actual layout of the home.
Glidecam HD-2000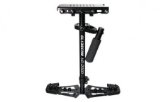 I use a camera stabilizer to produce a walk-through video tour that doesn't look like it came straight out of The Blair Witch Project. The Glidecam HD-2000 (Amazon aff link) is my stabilizer of choice. It's the only one I've used so I don't have a comparison against something else like the Steadicam Merlin. It's relatively easy to set up but regardless of which stabilizer you use it will take a lot of practice to produce smooth footage.
Due to the mounting plate being a flat surface, you have to make sure your quick release will fit. All of my video equipment uses the Manfrotto 394 RC4 Low Profile Adapter/Plate (Amazon aff link).
Glidetrack Slider
To get some smooth sliding shots I'll use my Glidetrack Slider. I have a Glidetrack Hybrid Slider that they don't make any more. It has been replaced with their Aero SD line of sliders. The 0.64m length version should be plenty long, although you could grab the 1.0m version and have more flexibility. I mount my ePhoto 717AH Fluid Head (on Amazon.com for $72.89) on top of the slider to hold the camera in place.
Crane/Jib
I have a cheap crane/jib, but I don't ever use it. Instead I use my Glidecam HD-2000 to simulate the crane movement. If you do want to use a crane in your real estate video I would recommend looking at the Kessler Crane KC-Lite 8.0 Camera Crane. I've heard a lot of great things about this crane from real estate photographers who use it regularly.
Remember: you get what you pay for. If these items seem too expensive right now for you, start saving so you can purchase them later. Buying cheap will only frustrate you by not getting the results you want. I highly recommend buying good equipment that will last.
Real Estate Video Testimonials
Video testimonials are a great addition to your real estate video product offering. Knowing how to capture testimonials on video is not only great for your own use but also for agents who want their clients to share their experiences.
Eubank Staging Testimonial
You can get away with one, but I use two cameras for testimonials. One shoots wider showcasing both subjects. The other camera is zoomed in to the subject who is speaking at the time, and I adjust it throughout the interview process. I use longer focal length lenses (24-105mm and 70-300mm) for recording testimonials.
Audio Quality
Arguably more important than the video quality is the audio quality. The important stuff comes through the audio with the testimonial being given by those on camera. If you can't hear the subject, the effect of the testimonial is lost. I have two sets of the following to record the audio:
Having two sets allows me to record two subjects at once. The small form factor of the equipment allows for easy carrying in my equipment bag. In my experience I have found that using a lavalier microphone setup results in higher quality audio compared to a boom mic setup with something like the Rode Videomic.
Putting it All Together
Once you have the equipment necessary for real estate video you'll be able to start practicing. If you are like me, you look back at your first photo shoot and wonder what you were thinking delivering that poor quality! Real estate video is no different. Your first attempts may not be great, but the more you do it, the higher quality you'll produce for your clients.
In future articles we'll look at the steps I take to produce walk-through video tours and testimonials and how I go about editing them.
Want to share? Have at it!