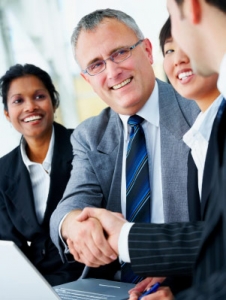 You have this great idea of becoming a real estate photographer, but you need your first client to shoot a property listing. Where do you look?
Find a Realtor You Already Know
It's easier working with someone you already know instead of a complete stranger, especially when first starting your business. Your goal is to find a real estate agent that you know personally through the sale of your own home, or you know indirectly through friends or family.
A lot of Realtors have deep relationships with their clients, and you may have experienced that yourself. If you purchased and/or sold your home with an agent, it's likely you would feel comfortable contacting them and asking them if they could help you out.
If you haven't purchased or sold a home, or maybe you have recently moved and don't have an agent in your new location, talk with friends and family that live around you. Figure out who knows a friendly agent that might be worth contacting.
They'll Be More Than Your First Client
You want to connect with someone you trust and someone that's going to be willing to help your business. This first client, whether they know it or not, is going to have a lot of information that is going to get you on the ground running.
They know the process of selling a home, they'll know what needs they want fulfilled by a real estate photographer and they will be able to give you insight into the business that you can use to better position yourself in the industry.
Let's look at my first client.
In 2007 I set out to purchase my first home, so I asked some friends that already had a home who they used as their Realtor. Through their suggestions, I was connected with Paula to begin my home search.
I spent a lot of time with Paula both in person and through communicating via email and phone. The first deal I attempted to close fell through, and Paula worked with me to find a different home that I ended up purchasing and it was even better than the first property.
For two months I slowly built a relationship with Paula and was very comfortable contacting her with any questions I had about my new home. When I started my real estate photography business in 2010, I immediately reached out to Paula and asked if she would be available for coffee.
We met at Starbucks and I told her about my idea of becoming a real estate photographer. Not only was she extremely supportive, but she helped guide me to discover aspects of the real estate industry that I was unaware of.
At that time, I had no idea what real estate agents expected for listing photos.
How many should I deliver to them? What's a virtual tour link and why do they need it? What are some of the things that she likes about her current real estate photographer, and what are some things that can be improved upon? How does the local real estate board impact my business and how do I contact them to make sure I'm servicing clients according to their expectations? I have to be on your company's verified photographer list? Good to know!
As you can see, in just one short meeting over coffee I took home many bullet points that needed more clarification. Two of them were big hitters that really started me off on the right foot:
What is something your current real estate photographer is not doing, that would help benefit you?
Who is the local real estate board and how do I contact them?
They Go Hand-in-Hand
Paula was quick to point out that one of the things that she thought would benefit her was if her real estate photographer was able to access the property without anyone being present. If she is unable to make the schedule shoot appointment and the seller is also unable to be at the property, it would be beneficial if the photographer could still complete the work.
She told me they put key boxes on the doors called SupraKeys and that allows real estate agents to access homes that are for sale on the market. She thought I might have to get my real estate license to obtain the tools necessary to open the boxes, but wanted me to contact the local real estate board to find out more information.
She gave me the contact information of a staff member at the local board and through calling them and asking questions, I found out I could join the association as an affiliate vendor which would then allow me to obtain a device that can open the SupraKey boxes.
Before I had even scheduled my first shoot, I was already one step ahead of my local competition.
Offering a service that is more valuable to your clients than the competition is an outstanding way to win over new clients.
To this day I capitalize on this advantage by making sure new prospective clients know I have the ability to access the properties with nobody present. It takes one less responsibility off their shoulders and allows you as the real estate photographer to make their life easier.
Want to share? Have at it!