We have already looked at a HDR real estate photography tutorial using the Enfuse method of blending brackets. When I first started my business it was one of two options. The other option for blending multiple exposures together was strict HDR software like Photomatix. At the time, Photomatix didn't have an Enfuse option so the result was over-saturated, overly tone mapped images. I see different variations of HDR photos online for property listings and thought we could go through a couple and look at their strengths and weaknesses.
Stereotypical HDR
When I first started seeing HDR Real Estate Photography, it was the classic stereotypical HDR. Tone mapped images resulted in over-saturated, cartoon-like photos. Although the result is a bright, artsy photo, it doesn't give an accurate representation of the property. When buyers go to look at the home in person they'll be presented with something totally different than what they saw online.
The below photos were created in Photomatix. You simply import your bracketed shots and select a tone mapping preset. My recommendation if you use Photomatix for HDR real estate photography is to take advantage of the enfuse settings. You can get a much more realistic result compared to the very colorful versions shown below.
Naturally Blended
Knowing I didn't want to provide the above examples to my clients, I started using Enfuse with Lightroom. You can watch a full-length video and read all about the process in a previous post here. The end result? Photos similar to the below examples. They look natural and more closely resemble the accurate colors of the property. Buyers won't be misled by looking at inaccurate photos online. To me, these photos appear more pleasing and are easier to look at.
You'll notice a difference in the kitchen photo especially. In the HDR tone mapped version above, there was a lot of blue and orange present. They were almost competing with each other on each side of the photo. This negative quality disappears in the Enfused version below.
HDR Real Estate Photography Tutorial Using Photoshop
I owe a shout out to reader Ron Paulk for sharing the following with me. He showed me how you can send bracketed images from Lightroom over into Photoshop. You can then merge them as an HDR within Photoshop. When you bring the HDR image back to Lightroom, it's a 32-bit file which allows for a lot of editing capabilities.
Let's first take a look at the Enfused version, the process of editing that I show here on the site via the video tutorial: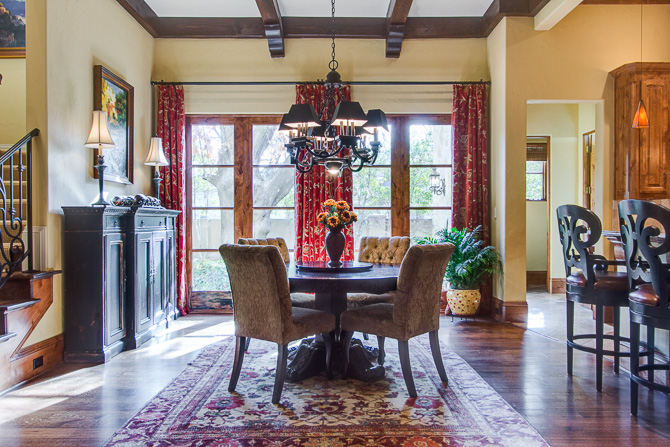 Now for the actual tutorial. (Click on each thumbnail to view a larger version)
Step 1
Select your bracketed shots, right click and go to Edit In->Merge to HDR Pro in Photoshop…
Step 2
After the brackets open in Photoshop, check Remove Ghosts, change Mode to 32-Bit and UNcheck "Complete Toning in Adobe Camera Raw, and click OK
Step 3
Return to Lightroom to view the HDR photo
Step 4
Process in Lightroom
You can see from my processing in Lightroom that I made quite the drastic change to the photo that came from Photoshop. I made some localized brush adjustments as well, so you'll have to play with it to see what works for you. Here's the resulting photo: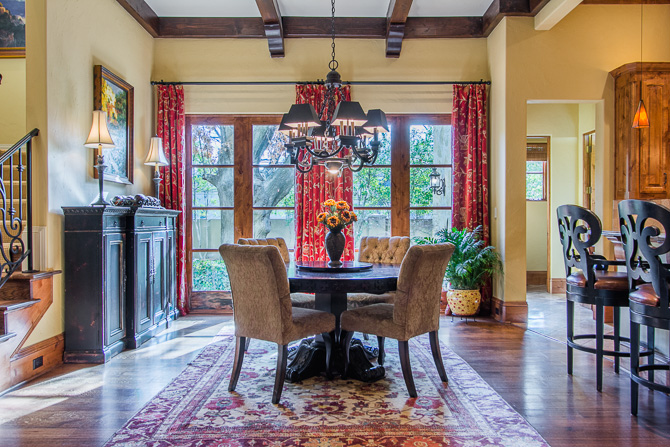 Big Benefit
One of the major benefits of this version of creating an HDR image is the ability to save the highlights. You can definitely see in the example that the window view is more visible than in the Enfused version.
Downside
However with all good things comes a compromise! The process of editing brackets like this takes time. You have to do each bracket individually, which will require you to be at the computer for each blend. Also each set takes about 5 minutes or so to blend. With Enfuse you can blend them all in bulk. And there's no need to sit at your computer if you don't have anything else to do. I like how Enfusing frees you up whereas creating the HDRs in photoshop tie you down.
Final Notes
I think using a mix of everything could be a great route to go. For photos where highlights/window views aren't an issue, just use the Enfuse method. But for the few shots where you need to try and save a window view, pull them into Photoshop. This way you get a good result when you need it, but only spend the time when necessary.
Want to share? Have at it!